Portfolio
The Novotel, Christchurch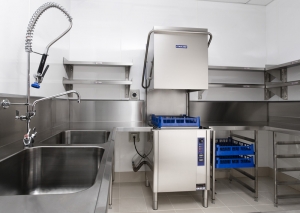 From Scott Wilson - Project Stainless Christchurch Manager:

The Novotel, situated in The Square, Christchurch City Central has been one of the largest contracts to date for Project Stainless Christchurch. The main contractor for the project was Fletcher Construction who subcontracted to Southern Hospitality. This project was a great opportunity for Project Stainless Christchurch and Southern Hospitality to work together in conjunction with Fletchers.

From floor grates to dishwash benches to bar tops, just about everything stainless steel was covered in this project. Thanks to great design, project management, and ease of communication from Southern Hospitality, the project went extremely well. Project Stainless Christchurch also installed all the stainless steel. Access to different levels had their obstacles and were overcome with plenty of manpower and little fuss thanks to all parties involved.

A great outcome for us at Project CHCH. We now look forward to working with Southern Hospitality and Fletchers again on the new stand development at AMI Stadium. Look to see some photo's of our progress on this project in the near future.