Portfolio
Featured Projects
AMI Stadium Christchurch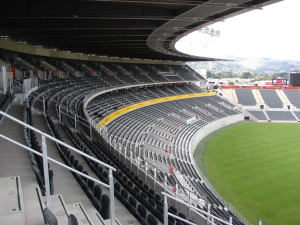 As with Novotel Christchurch this was another large project with main contractor Fletcher Construction, subcontractor Southern Hospitality and Project Stainless South Island working together to provide the Food & Beverage Facilities for the new Deans Stand in preparation for the 2011 Rugby World Cup.

Along with traditional stainless steel benching Project Stainless South Island designed and fabricated Service Counters, Roller DW Benching and Chip Dumps etc specifically to cater for large numbers of people in a very short space of time.

Project Stainless South Island also developed a range of Heated Food Chutes designed for the speedy self service of fast food products in each of the food concessions. This saved the client thousands of dollars when compared with the originally specified imported units.

Project Stainless South Island installed all of the stainless steel which often had to be craned into the various levels and site welded.

Despite major delays in the site building programme the project was completed on time and to budget. Project Stainless South Island were even able to complete, on time, an additional food and beverage concession confirmed on the eve of Christmas and required to be commissioned mid January. Thanks to good planning and a great team approach from Fletcher Construction, Southern Hospitality and Project Stainless South Island.

The Novotel, Christchurch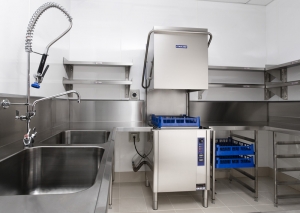 From Scott Wilson - Project Stainless Christchurch Manager:

The Novotel, situated in The Square, Christchurch City Central has been one of the largest contracts to date for Project Stainless Christchurch. The main contractor for the project was Fletcher Construction who subcontracted to Southern Hospitality. This project was a great opportunity for Project Stainless Christchurch and Southern Hospitality to work together in conjunction with Fletchers.

From floor grates to dishwash benches to bar tops, just about everything stainless steel was covered in this project. Thanks to great design, project management, and ease of communication from Southern Hospitality, the project went extremely well. Project Stainless Christchurch also installed all the stainless steel. Access to different levels had their obstacles and were overcome with plenty of manpower and little fuss thanks to all parties involved.

A great outcome for us at Project CHCH. We now look forward to working with Southern Hospitality and Fletchers again on the new stand development at AMI Stadium. Look to see some photo's of our progress on this project in the near future.


Lure Café Brasserie, Waiheke Island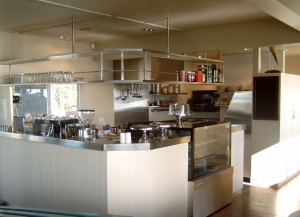 Lure Café in the township of Oneroa on Waiheke Island has recently used the services of Project Stainless to complete a full refit and refurbish of the whole café, with an additional install of a new commercial kitchen. The owners - Debbie & Dave Tong - are very happy with the outcome and you can click here to read their testimonial.

Ian Fowler (Project Stainless Auckland manager) comments on the project:

The building that is now Lure Café was previously a run down ex-fish & chip shop with very nice views. The owners - Debbie & Dave Tong - decided that Waiheke Island was lacking in good Café style dining for the ever-expanding tourist trade, and that they needed to remedy this.

They gave Project Stainless a 'wish list', which was then transposed into a workable design in conjunction with all of the required cooking equipment. Drawings were produced to give Debbie & Dave an idea of what the finished product would look like, and an item by item quotation list was provided, including freight and installation.

From here, we were able to discuss each item and what exactly was going to fit into the budget, so that the outcome suited the needs of Debbie & Dave in terms of both their requirements and their pockets.

The installation went well and the team were very happy with the outcome, as were Debbie & Dave.