Portfolio
Lure Café Brasserie, Waiheke Island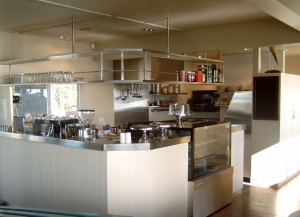 Lure Café in the township of Oneroa on Waiheke Island has recently used the services of Project Stainless to complete a full refit and refurbish of the whole café, with an additional install of a new commercial kitchen. The owners - Debbie & Dave Tong - are very happy with the outcome and you can click here to read their testimonial.

Ian Fowler (Project Stainless Auckland manager) comments on the project:

The building that is now Lure Café was previously a run down ex-fish & chip shop with very nice views. The owners - Debbie & Dave Tong - decided that Waiheke Island was lacking in good Café style dining for the ever-expanding tourist trade, and that they needed to remedy this.

They gave Project Stainless a 'wish list', which was then transposed into a workable design in conjunction with all of the required cooking equipment. Drawings were produced to give Debbie & Dave an idea of what the finished product would look like, and an item by item quotation list was provided, including freight and installation.

From here, we were able to discuss each item and what exactly was going to fit into the budget, so that the outcome suited the needs of Debbie & Dave in terms of both their requirements and their pockets.

The installation went well and the team were very happy with the outcome, as were Debbie & Dave.